Do you want to know the begining of this story? Try out:

Immerse yourself in a distressing psychological thriller where you will have to solve mysterious murders commited between 2019 and 2020, in order to find who hydes behind all that madness. But you may find something you were not looking for, since discovering what is happening will take you into a world of darkness, terror and insanity, into a DESOLATED world.
Be part, like never before, of an exciting mystery based on Lovecraft's Myths. Full of puzzles, sects and primordial deities, with hyper-realistic 360º graphics and a chilling sound (ambisonic - 8D). You will experience in first person the intertwined stories of four characters who will have to investigate these mysterious events from different starting points and clues. But, be careful! Your decisions can have serious consequences that will lead you to different endings.
Dive into the well-known Myths of Lovecraft in a whole new way with this immersive, first-person, Point & Click, Graphic Adventure, with a taste of Survival Horror. Awarded the "Most Innovative Game" award by PlayStation and the "Best Sound" award by Gamepolis.
You can play Desolatium on a PC / Mac or enjoy a more complete and intense experience with a VR device (Oculus or HTC Vive)

We live in a predictable world. The anesthetizing reality of our every-day only seems interrupted by fragments of horror, presented to us in the form of news about wars in third world countries, tragic accidents or pandemics. And still, even under the worst circumstances, most of us know exactly what to expect from the next day, and the next ... accepting our programmed dose of routine.
Only a few have come to glimpse something else, something that lives among us, that lurks in the dark, that hides in the corners of space and time. But they wish they had never seen it, because there is another world waiting at the limits of this one, a world of indescribable horror.
Disappearances, ritual murders, a great and ancient evil that longs to return to the world that was once his. Investigate the disappearances and try to discover what lies behind, entering a hidden and dark world where you will have to leave behind the safety of an ordinary life. Try to make sense of the truth ... and not go crazy in the process.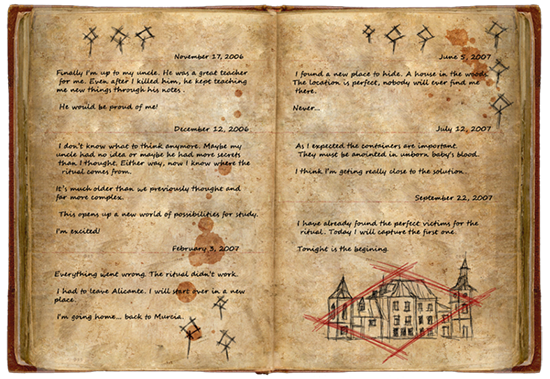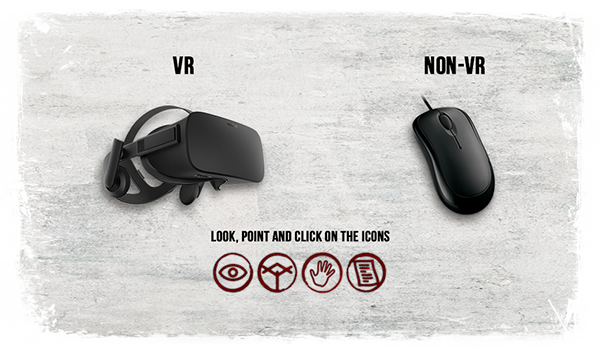 Desolatium is a new way to fully immerse yourself, in first person, in the Point & Click Graphic Adventure genre. It incorporates features of Survival Horror so that you can live a unique experience, such as real settings, the ambisonic sound (8D), a Lovecraftian narrative and hyper-realistic graphics, enriching your gaming experience.
Full Immersion: To get you fully immersed we have invested all our efforts into enhancing the sound and hyper-realistic graphics, combining them with a chilling story based on Lovecraft's Myths, and with a decision-making system that will transport you straight into a story like you have never experienced before.

Desolatium will be available for PC / Mac, although, if you want to get a total immersion, you will be able to use a Virtual Reality device.


Hyper-realistic Graphics: Every level has been generated by recording real locations in 360º, and later integrating 3D elements in a very subtle way, in order to transport you directly into the insane universe of DESOLATIUM.


Ambisonic (8D) audio: The ambisonic audio (also known as 8D) generates a surrounding sound effect that appears to come from every direction, creating the feeling of being in a real scenario where danger lurks in every corner... a few steps behind you... a chilling scream behind a door... can you imagine hearing the piercing sound of a primeval god chasing you, as you try to overcome the obstacles on your way out?

In DESOLATIUM, all the voice-overs, effects and sounds are created using this technology, in order to make you feel part of the mystery like you have never been.

Best of all, you only need headphones to live this experience.


Multiple endings: In DESOLATIUM you will set the course of the adventure. Every decision you make will determine your path, taking you to a variety of situations through the different narrative lines that the game contains, and that will lead you to one of its multiple endings... Will you be able to avoid more murders? Will you find out who is behind all of this or will you prefer to be part of some ritual?



Superlumen is a small indie studio located in Murcia (Spain).
Chema Coca, Game Designer.

Juan Cassinello, Code Developer.

Lucía Andreo, Artist.

Charly Lax, Narrative Director.

Gonzalo Aix, Actor.

María Parra, Writter.